SEG Wavelets
​On Friday, February 17, 2017, Dr. Laurie Bellman will be giving a lecture on "Data Interpretation and Integration from a Seismic Perspective- The Excitement of Innovation". It wil start at 11am and take place in Agnes Arnold Hall Auditorium 1.
Regarding the Petroleum Exploration Geoscience Short Course 
Due to unforeseen circumstances, the Petroleum Exploration Geoscience Shortcourse will be postponed to a later date. We deeply apologize for this. We will update those that have signed up for the shortcourse regarding the new date as soon as it is decided. Thank you.
Lecture on January 20th: "Seismic amplitude fidelity and its impact on 3D and 4D seismic interpretation"

​
On January 20th in SR1 634 at 1pm, guest speaker Dr. Paul Hatchell will be delivering a lecture with the topic being "Seismic amplitude fidelity and its impact on 3D and 4D seismic interpretation".
Dr. Paul Hatchell is currently Shell's principal technical expert for 4D reservoir surveillance and is a member of Shell's Areal Field Monitoring team. His activities include the monitoring of seafloor deformation, developing improved 4D seismic acquisition and interpretation techniques, and training the next generation of geoscientists.
It's that time of year for celebration and holiday parties!!!
We, along with AAPG Wildcatters, Geosociety, and the EAS Student Body Committee, will be hosting the Annual EAS Holiday Party on Wednesday, December 7th, from 6pm to 10pm at Nouveau Antique Art Bar.
Along with food and a photobooth, there will be a photo contest! Details are in the second flyer attached!
Tickets for students will be $7 before November 30th and $10 after; $15 for faculty; $20 for alumni and professionals. Please buy your tickets through this link (there is a one dollar processing fee):
https://2016uheasholidayparty.eventbrite.com
Petroleum Exploration Geoscience Short Course

​
Next semester we will be hosting a "Petroleum Exploration Geoscience" short course. It will be taught by Dr. Kurt Rudolf, an EAS adjunct professor and a previously a long-term seismic stratigrapher for Exxon.
The short course will be held on Saturday, January 28th, 2017 in SR1 Rm 223 from 8am to 5pm. Lunch will be provided.
If you would like to attend, please register through this link:
https://goo.gl/forms/BWkBBDUtjKeFueb82
Registration will be closed on November 22nd.
It will be first come first serve but those who have attended past events, are members of SEG, and have joined SEG Wavelets through "Get Involved" will be favored.
Dr. Jonathan Rotzien, the president of Basin Dynamics, LLC, will be giving a talk on "Deep-Water Petroleum Reservoirs and Their Outcrop Analogues". It will be held at 1pm in SR1 223 on Friday, November 4th, 2016.
SEG Wavelets will host Miguel Bosch from Universidad Central de Venezuela and Info Geosciences Technology and Services to its EGLS Talk on Tuesday Oct. 27th.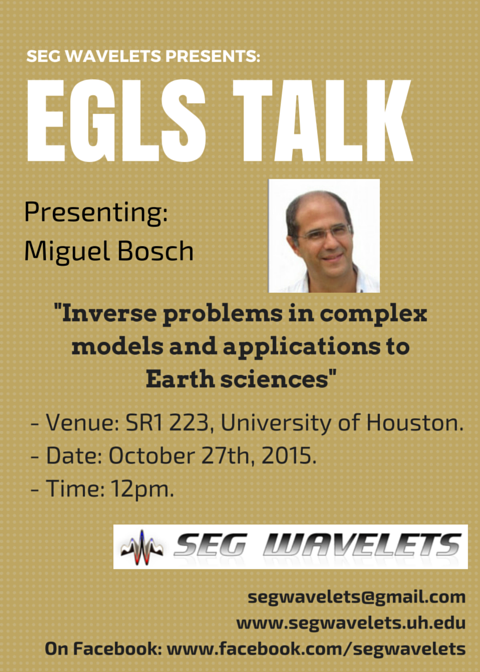 Join our group on LinkedIn
---
Deepwater Plays Short-Course.
Sign up for our first short course of this school year. Dr. Joan Flinch from Repsol will be joining us Saturday 17th to offer this course.
  
Join our group on LinkedIn
---
Study Abroad Opportunity.
Great opportunity for Freshmen and Sophomores to study abroad in Brazil. This opportunity is presented by the University of Tulsa will last 5 weeks, and it will include Portuguese instructions and Geophysics credits at the Universidade Federal do Rio Grande.  
Join our group on LinkedIn
Come join us on September 24th for our first event of this semester! Students will get to meet the rest of the Geoscience family at UH, along with industry professionals and UH Alumni!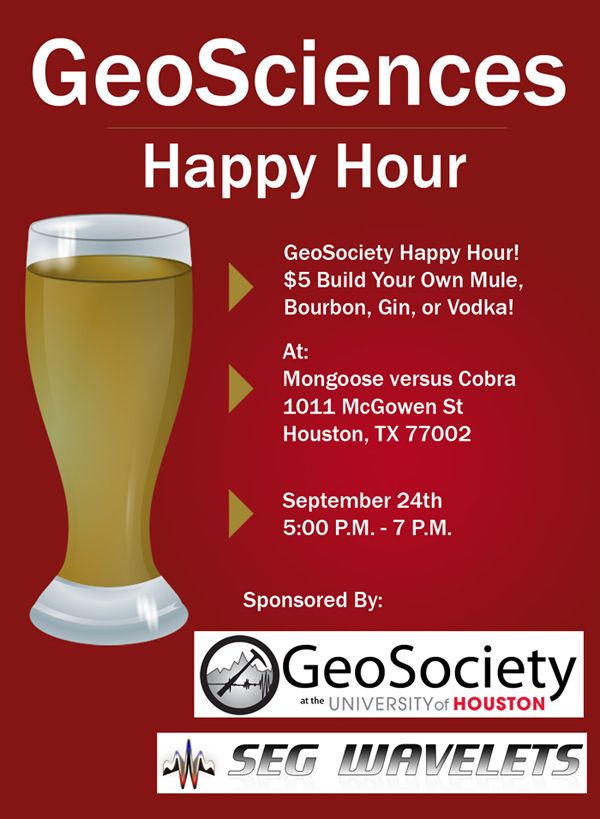 Join our group on LinkedIn
---
Come join SEG Wavelets, along with Geosociety and the Energy Coalition for the second Tailgate Party of this semester. Join us this Saturday at the TDECU stadium for some food, beers, and fun! We'll see you there.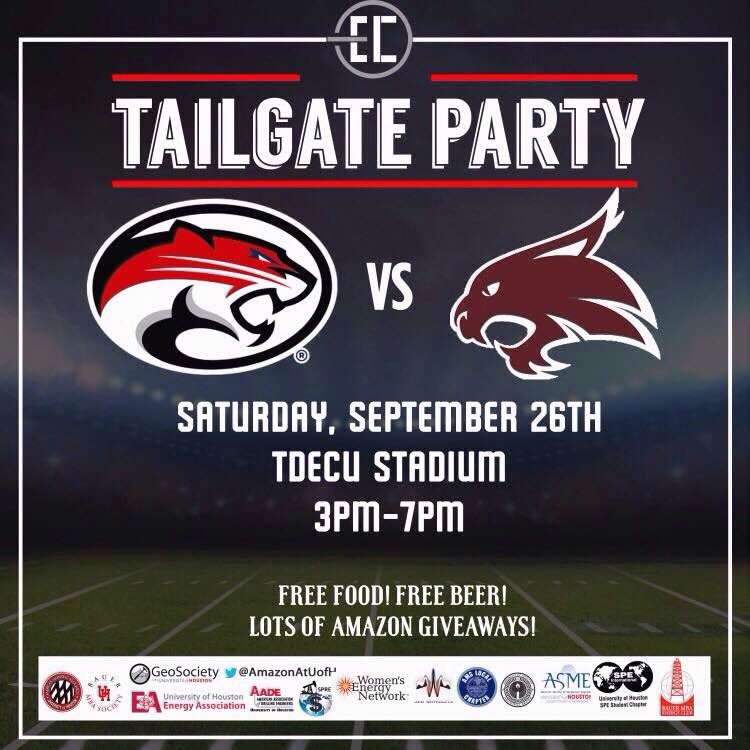 Join our group on LinkedIn
---
SEG Wavelets will be hosting the SEG Honorary Lecture on October 1st. Dan Whitmore, from Petroleum Geo-Services will conduct the lecture and expose the "Concepts and Applications of Imaging with Multiples and Primaries."  
The lecture will be held from 1pm to 2:30pm in room SR1 634. We'll see you there!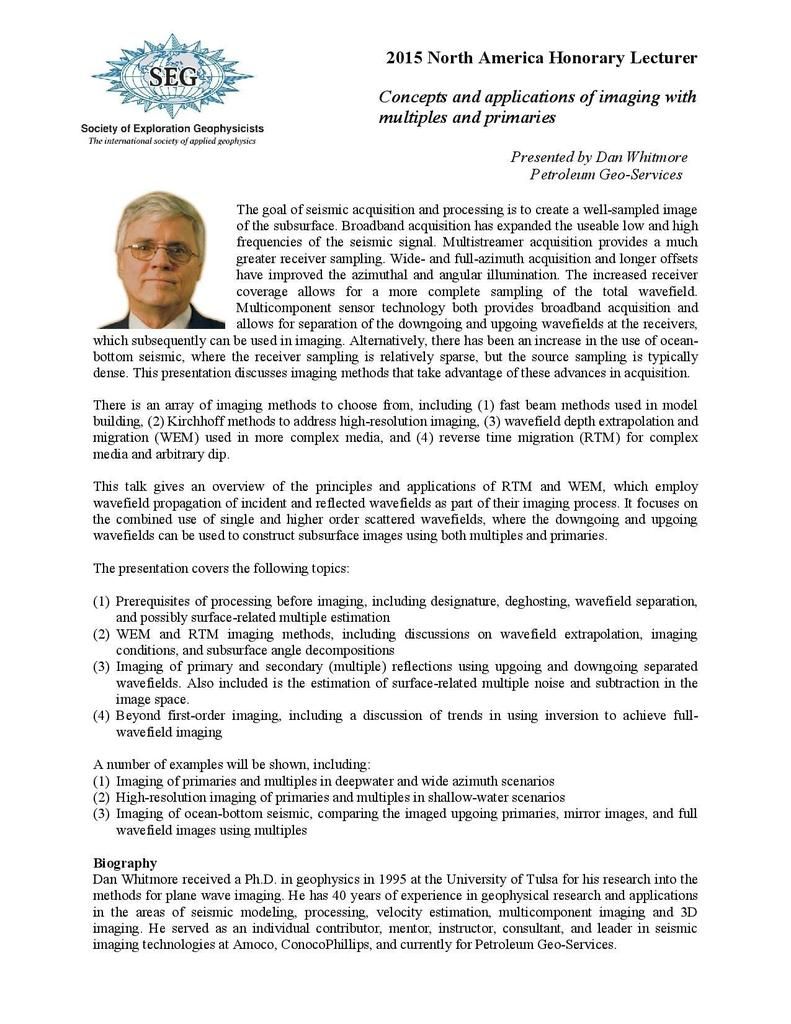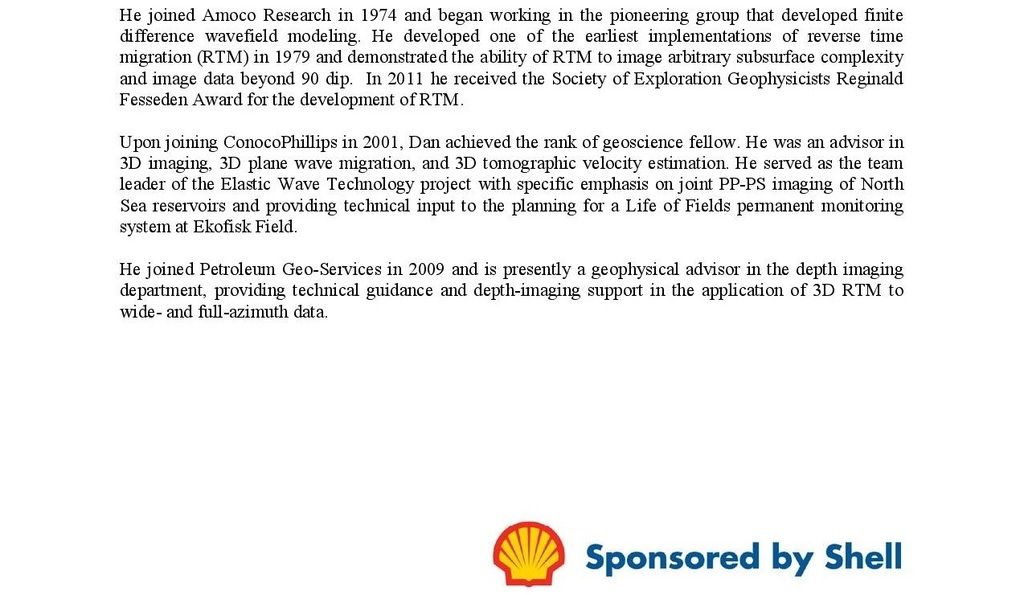 Join our group on LinkedIn
---
Open Seismic Processing Working Workshop.